Interview with John Galliano
John Galliano's interview "the idea of proposing a new glamour"
Madame Figaro interviews John Galliano before the autumn/winter 2017 Artisanal show.He talks about his creation pyramid and the idea of proposing a new glamour.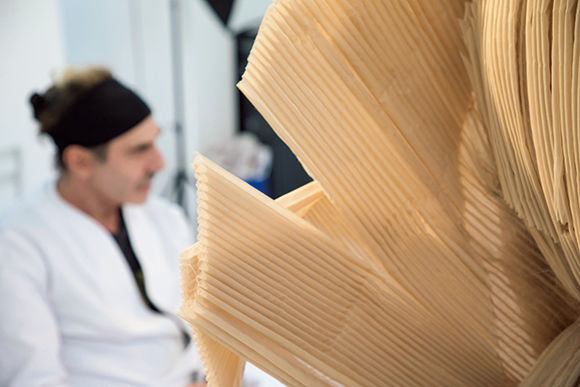 When the models snaked their way down the runway for the finale of Maison Margiela's autumn/winter 2017 Artisanal show in July, John Galliano had already left the building. His triumphant bows during the fifteen years he designed for Christian Dior are the stuff of legend. These days, without fanfares or confetti, he carries that title better than ever. Hidden from the spotlight in the meandering corridors of Maison Margiela in Paris' arty 11th arrondissement, Galliano now works elusively under virtually anonymous conditions, undisturbed by the glaring spotlights of the outside world. It's how they do things at the Maison, fronted by the avant-garde Belgian designer Martin Margiela from 1988 until 2009, who famously never showed his face to his adoring industry. An icon of his time, Galliano is one of the most recognisable faces in fashion, but in this chapter of his prolific career, as Creative Director of Maison Margiela, he now leaves the applause to his work, devoting his time in the paint-covered bright white ateliers to his craft and contemplation.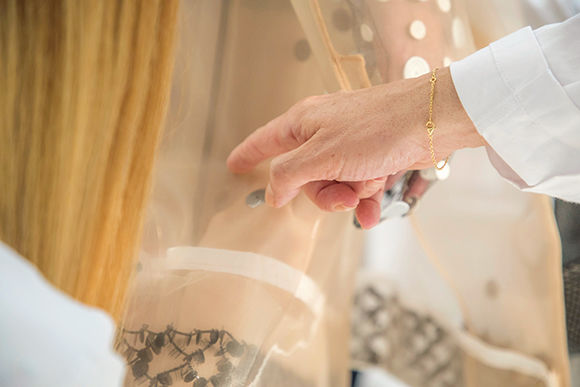 For the autumn/winter 2017 Artisanal collection – Maison Margiela's seasonal haute couture offering – he was thinking about glamour. "We thought it would be interesting to tackle this idea of proposing a new glamour," he says in June, surrounded by mood boards in his atmospheric personal space in the brand's headquarters. "I'm not saying we've found a solution, but that was idea," Galliano continues, a team member serving us tea in a distinctly English tea set. "I asked myself and my team, why are we so attracted to glamour? And what is glamour? The stolen moments—a paparazzi shot," he muses, glaring at the references that fill his mood boards: silver screen portraits of Marlene Dietrich, Marilyn Monroe, Elizabeth Taylor. "After thinking long and hard, we decided it's actually the image that we're attracted to. Because we know Marilyn wasn't feeling that glamorous, but we're attracted to the image of it: our interpretation of the image as glamour."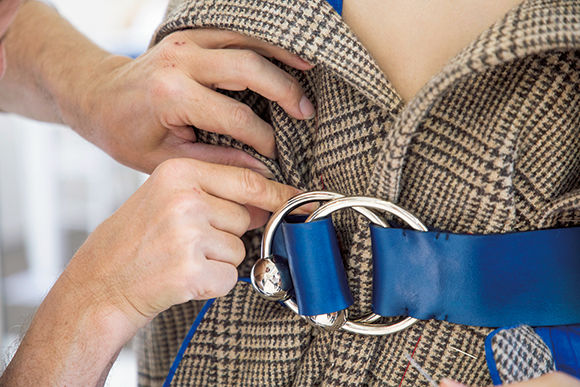 ---page---
If it sounds abstract, it's just another day at Maison Margiela. Here, every idea and reference is turned upside down, inside out, veiled and left to interpretation. It's the way it's always been, since Martin Margiela first began re-appropriating modest wardrobe staples, giving humble garments new value through his subversive codes. Now, Galliano is applying that procedure to what he knows best. "What does glamour mean? It's a Scottish word," he explains, walking off to fetch a piece of paper denoting its definition. "'Magic or enchantment. Spell. Witchery'," he reads aloud. "'1710-20. Dissimilated variant of grammar in the sense of occult learning'," he concludes, stressing those last words with theatrical force. His voice is entrancing: an otherworldly accent derived from his native South London where his family relocated when he was six years old, in 1966, from his birthplace of Gibraltar—spun into dramatic articulation, with majestic French bass notes. John Galliano is that very definition of glamour: rather spell-binding.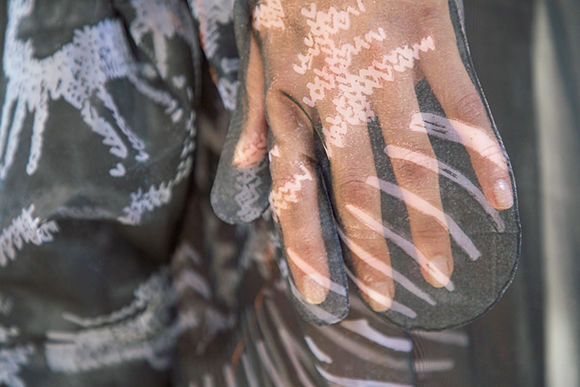 On this normal Monday in the ateliers, he is wearing the simple white coat, which has always been the uniform of Maison Margiela's staff. But as Galliano elaborates on his Artisanal collection and his supernatural techniques and fabrication, he begins to look more like a scientist in a lab coat—paired, of course, with a headband and comfy house slippers. The ateliers are his second home. "The image of glamour has informed how we cut, how we embroider—any kind of surface decoration. It's always the image of glamour," he reiterates. The Artisanal collection sits at the top of what Galliano calls his 'pyramid'. The structure of his work for Maison Margiela, it reflects the circle of life of his collections: the Artisanal line is the first collection to show in the season and defines the methods and philosophies of the ready-to-wear and pre-collection that follow. Sold to a small amount of private haute couture clients, Artisanal is the pinnacle of Galliano's work for Maison Margiela, and the conduit for the intricate techniques that embody his collections.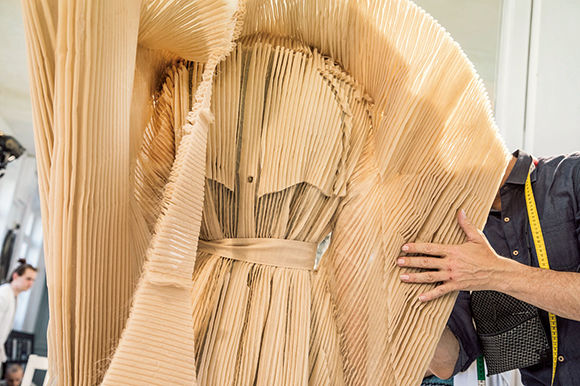 This season he has continued his fascination with decortiqué – his term for carving out the lining of a garment to reveal its core structure in skeletal form – and painstakingly rippled organza so it resembles corrugated cardboard. He has introduced lino printing and employed so-called plissé soleil to create trompe l'oeil images of stockings as motifs on skirts. Fleeting glimpses in the movement of the fabrics, he refers to them beautifully as "memories of glamour". To Galliano, his Artisanal collections aren't just another ride on the seasonal fashion carousel. They are his chance to reinvent people's wardrobes—and, indeed, invent new ways of making clothes and wearing them, much like fashion's answer to a scientist. "The humble coat," he says, turning a rhetorical page: "I feel it's something we all take for granted, but it does us a huge service. But possibly, stylistically, we've never been seduced by the coat, do you know what I mean?" And then, he offers a rare glimpse into the elusive life, which fuels his ingenious ideas at Maison Margiela.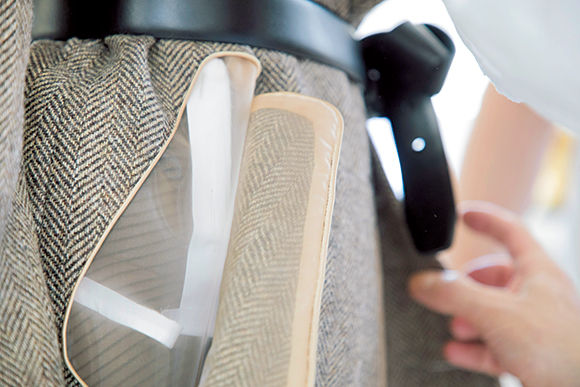 "Can I tell you a little story? When Alexis went to Cannes, I was in charge of the dogs," he begins, referring to his partner Alexis Roche and their two dogs Gypsy and Coco. "Normally he takes them out. And I was doing a long day's work, eating, rushing home, bathing. In my peignoir," he continues, painting a picture of his princely evening ritual, he realised he had to take the dogs out for a walk. "And I thought, I'm not getting dressed again. I'm all ready for bed! So I grabbed my Mackintosh and my slippers, put a little Prada belt around me, and went out and walked the dogs. I felt so great in just my Mackintosh, with a leather belt around it. And I bumped into a couple of friends and sat on the bench talking until the 2 in the morning, and I thought, my god, I could have gone to a club! I looked good—and it was the coat," he pauses. "So I thought, could the coat become this new symbol of glamour, like certain desirable high fashion bags? Could it?"
---page---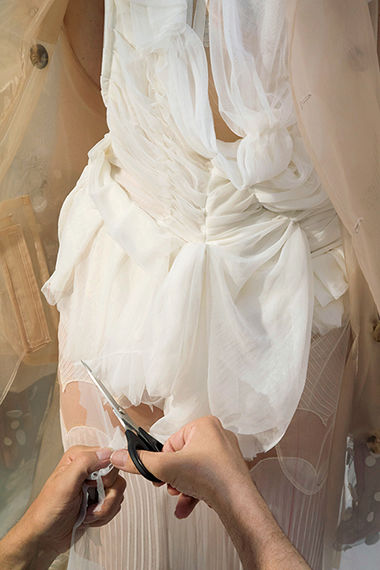 And so, Galliano made that humble coat rise to the occasion, giving it the haute couture treatment the way only he could do it. "It's a challenge for us to turn the man's coat into a proposal of something glamorous. Feeling Liz Taylor," he says. "It's empowering." One coat was turned into a dress, it's every component glamorised to silver screen highs, held up by single hidden corselet structure as if it were a gown. Another was realised entirely in rippled organza made to look like the cardboard of a box, reflecting an idea of the cheapest and most honest material made glamorous beyond belief. "Gold is cold, a limousine is just a car, and a Tiffany box is just really carton," Galliano quips. "It's all the image. In the outfits, I hope people might just see something glamorous, without each thing needing to be glamorous." His devotion to his Artisanal collections is obvious. This is the work John Galliano loves: the excitement of the experimentation, pushing the boundaries, and keeping his audience on their toes.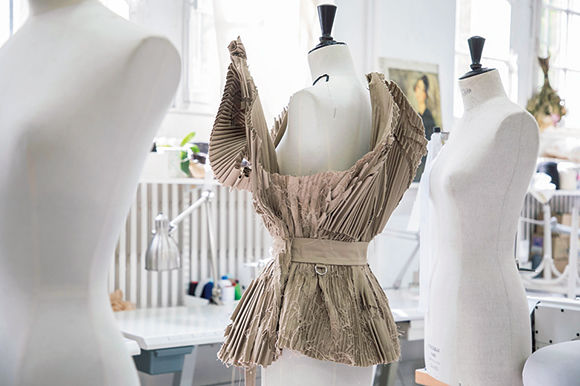 Following his break from the industry in 2011, before he took over Maison Margiela in 2014, his accomplishments at Christian Dior have become fashion myth. The evidence lives on in cyberspace: YouTube footage of his fantastical shows, the clips that follow him through his emerging years after graduating from Central Saint Martins in 1984, through his early era as an independent designer in Paris to Givenchy in 1995, and finally Dior the year after. On a contemporary fashion planet, galaxies away from the 1990s and 2000s when Galliano put on his most theatrical shows, his legacy now stands for the kind of fashion that makes people dream. And at Maison Margiela, although he might be less outspoken or visible, that dream lives on. "Part of my job is to make people dream," he says. "And I'm attracted to glamour—I think we all are, aren't we? We all hanker after those obvious symbols of luxury in these kinds of times. We just do it, like a security blanket, because those symbols make us feel secure."
He revisits that night he took the dogs out in a fabulous trench coat. "Alexis said, 'Why don't you just put on a tracksuit?' I said, no way! I had to have my coat. I had to feel polished. It's just about that feeling, when you're tuned in to that news all the time." Is glamour a way of elevating yourself, then? "Respecting yourself, I think it's called," Galliano intervenes. "Because when you respect yourself, you respect others."
photos : LAURENT VAN DER STOCKT, interview et texte : ANDERS CHRISTIAN MADSEN